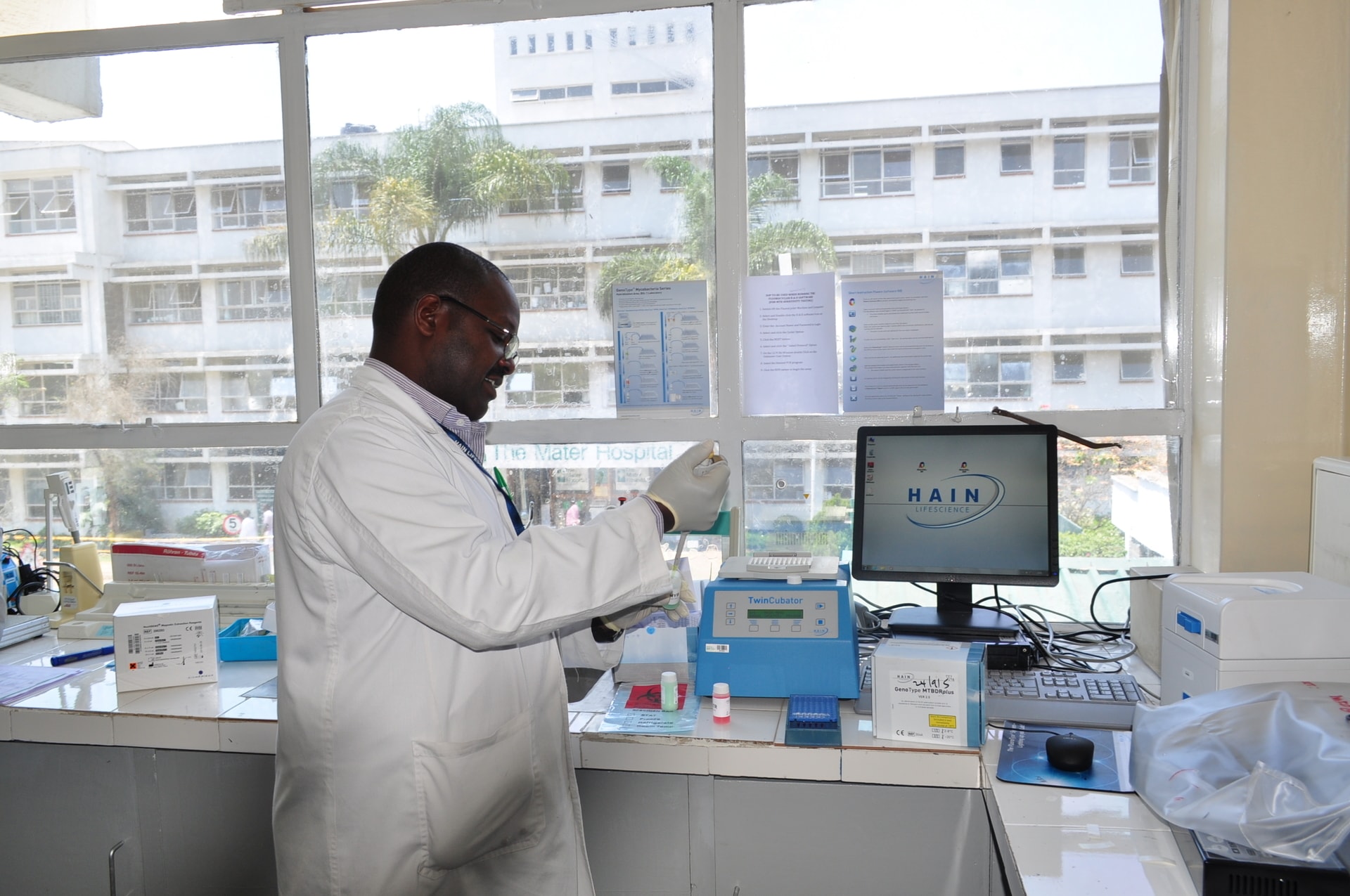 Laboratory
An effective laboratory service is an essential part of a functional health service. Laboratories provide confirmatory diagnosis and improved management of disease, Essential public health information and disease surveillance. Due to this wide-ranging role, laboratories are an important part of many disease control programmes.
The Mater Hospital main Laboratory therefore forms an integral part of The Mater Misericordiae Hospital, offering a 24 hour service. In line with our mission statement, we assure all our clients of "timely, affordable, compassionate and high quality diagnostic services".
Mater Misericordiae Hospital also operates seven (7) satellite laboratories in our clinics at Development House, Buruburu, Kasarani, Shujaa, Westlands, Thika and Karen. The laboratory is staffed with experienced laboratory technologists, phlebotomists and five pathologists' consultants covering all the sections. Routine tests results are available within one hour of sampling or receiving samples at the laboratory. Other specialized tests takes longer time depending on the type of the test.
Quality Assurance
Quality Assurance Programs assure laboratory staff, clinicians and patients that laboratory test results are reliable, reproducible and relevant. The laboratory has been accredited to ISO 15189 (a specific standard for competence in Medical Laboratories). This is a formal international recognition that the laboratory and its staff are competent to carry out its activities by meeting the quality management and technical competence requirements. To this end the laboratory has a Quality officer dedicated to ensuring Quality work and results are generated daily.

The laboratory also has membership with an External Quality Assurance program i.e. Human Quality Assessment Scheme (HUQAS) of Canada and performs a daily Internal Quality Control. The laboratory benchmarks with other medical laboratories and keeps the highest possible standards through provision of qualified staff, equipment and facilities. Currently technology is in use with our equipment and tests being reviewed annually.
Services offered
1. Clinical Chemistry - Olympus AU 480 is a fully automated Chemistry analyzer with a throughput of 800 tests per hour and simultaneously programmable for 63 different analytes. It handles both routine and specialized tests like:
Liver function tests
Kidney (renal) function tests
Cardiac (Heart) function tests and markers
Lipid profiles – analysis of cholesterol levels and related products
Bone metabolism tests
Muscle enzymes tests
Diabetic screens – Blood glucose and glycated hemoglobin
Electrolytes
Therapeutic drug monitoring
Pancreatic profiles
Drug of abuse profile
2. Hematology - The section deals with diagnosing blood disorders such as:
Anemia
Leukemia
Coagulation studies - bleeding disorders
Malaria
The main Equipment in this section
SYSMEX XN-1000 as the main Heamatology analyzer
CELL-DYN RUBY as a backup
Coagulation studies are performed using ACL Elite as the main machine while ACL 200 acts as a backup coagulation machine. BD.Facs count and Partec cyflow counter are the machines used to perform CD4 counts
3. Immuno-Hematology - The Laboratory runs a 24-hour blood bank that ensures safe blood is provided to the patients when required. Efforts are made to maintain an adequate supply of blood and blood components like whole blood, packed red blood cells, fresh frozen plasma, platelet concentrate and cryoprecipitate.
4. Blood Donation Services - The Mater Blood Donor Service is managed by a full time senior donor Nurse and a laboratory technologist. The source of our blood for transfusion is from patients' relatives, voluntary donors and also partly National Blood Transfusion Services. Volunteers are encouraged to join The Mater Hospital Donor Club or visit and donate a pint of blood to save life of a needy person.
5. Molecular Biology - This is a highly specialized area .The core function being purification of DNA / RNA and analysis of gene expression and genotyping. Example of some of the analysis done are Covid-19, HIV load, PCR hepatitis B, HCV genotyping, PCR MTB , PCR sexually transmitted diseases among others.
Equipment used in Molecular Biology section are:
Sentosa machine, this is an automatic nucleic acid extractor and rotor gene PCR cycler for detection
Hain life science system as a backup to perform PCR for TB, Chlamydia and MRSA
6. Microbiology section - The section involves standard analysis of specimens for bacterial, parasitic, and TB infections.
Tests done include:
Bacterial cultures - aerobic and anaerobic
Drug susceptibility testing; wide variety of antibiotics
TB screening using ZN and Fluorescent microscopy
A wide range of rapid antigen detection tests e.g. H.pylori, salmonella antigen, streptococcal Antigen, Rota Adenovirus and bacterial antigen
7. Immunology and endocrinology section - The section is equipped with modern automated analyzers such as Architect plus, Cobas e411 and Vidas.
The tests performed include but not limited to:
Thyroid Function Tests
Tumour Markers (cancer screening tests)
Retrovirus (HIV)
Reproductive hormones e.g. BHCG, FSH and LH
Therapeutic Drug Monitoring
Hepatitis A, B & C
Anti CCP
Procalcitonin
8. Histology / Cytology - This section deals with the following specimens
Biopsies, FNAs and Pap smears
Postmortem specimens
Body fluids e.g. pleural fluid, CSF etc
Histology and cytology of the above specimens enables detection of cancer and other diseases.
Mortuary
Manned by three qualified morticians and has a capacity of 13 bodies. It is open 24 hours and also receives bodies from outside when vacancy is available. The core business of the morgue is:
Storage and preservation of bodies (cadavers)
Performing requested post mortems (autopsy)
Embalming bodies on request
Body preparation before releasing to relatives